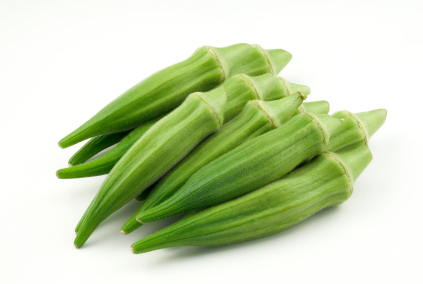 Here in the South we fry everything—eggs, chicken, fish, squash, green tomatoes, pickles … even ice cream. And there is one thing that absolutely must be fried to be edible: okra.
Maybe a few pieces floating in gumbo is okay, but don't steam it, boil it or pickle it and expect me to bring it to my lips.
My Momma knew how to fry okra. I can still see her, Bermuda shorts, an apron tied around curvy hips, sweet smile and Marilyn Monroe lips. Sometimes she sang as she fried, transported away from the mundane task to some place more exotic.
Okra is an odd little plant, which grew like an uncontrollable weed in the gardens of my childhood. Once it starts bearing you must pick it every day or it will quickly grow too long and woody to be used for anything but a Christmas ornament. People were always giving it away.
And frying it doesn't guarantee a positive culinary experience. The stuff normally served with blue-plate specials, or found in the freezer section of the grocery store, typically is heavily breaded lumps with woody, seedy, tasteless green chunks in the center.
For those of you that have never had real fried okra, I have something very special to share: I've improved my Momma's fried okra recipe, and it is guaranteed to produce little kernels of golden fried crack. It makes my heart sing.
This recipe is an amalgam of what I learned from watching my mother (I was always standing close to her so that I could watch and surreptitiously sneak bites), and slight improvements I've made over the years.
Note to reader: this is a labor of love, but it's so worth it!
Anne's Fried Okra
Ingredients:
Batch of local summer okra: very important for the pods to be smallish (between 1 and 3 inches)
1 cup yellow corn meal
1/4 cup unbleached flour
1/4 cup panko breadcrumbs
1 tablespoon salt
black pepper to taste
1 egg
1/2 cup milk
canola or peanut oil
Slice okra thin, the thinner the better. Combine dry ingredients in generous bowl. Lightly beat egg and milk together. Heat oil over medium high heat in a large skillet until it's so hot it shimmers. I like to use cast iron for frying okra, but any heavy skillet will do. Now, here's the messy part: take a handful of the okra and place it in the milk/egg mixture, then dredge the coated okra in the dry ingredients. The trick is to separate the individual pieces as you are placing the okra in the very hot oil, rather than letting clumps form. This way, each piece is crispy on all sides. The okra will cook quickly, as in less than two or three minutes per batch.
Enjoy!!!